🎶I'm dreaming of a white Christmas, just like the ones I used to know…🎶
Oh, well hello there! We're just getting into the Christmas spirit is all. You know, with it being that the most joyous time of the year and all.
Christmas is stressful, as you well know. Why not prepare now for any disasters that might occur and get a head start on finding the Christmas spirit!?
You want to avoid stress, relax, and enjoy the holiday season– especially after this disaster of a year! We've gathered a few Tips to Avoid a Holiday Disaster (or navigate through them) this season. Enjoy!
1. Hide The Pies
Let's be honest– we all have one relative that simply cannot wait until after dinner to crack into the pies. Remember last year, when it came time for dessert, and you ended up not having enough for everyone? Or maybe you found your jolly little pies half-eaten…
Therefore, it's not a bad idea to hide the pies. In the garage freezer, hiding under other items perhaps? Or the very back part of the freezer in the kitchen!
Whether those sneaky uncles and cousins are mid-day snacking or breaking into the pies mid-week, it's a good idea to hide the pies from those sneaky pie-snatching relatives!
2. Plastic Ornaments?
#2 of our Tips to Avoid a Holiday Disaster– use plastic tree ornaments to decorate your tree instead of those fancy glass ones! We know, we know. We're not a huge fan of plastic ornaments either, but sometimes it's just necessary.
If you are a cat or dog owner, or the parent of a toddler, then this lesson is likely one you already know well. Pets and toddlers are not exactly friends to expensive glass ornaments… yikes.
To avoid the mess that mom will have to clean up, consider plastic ornaments this Christmas!
In fact, we've found it best to get mini Christmas trees that can be set in "unreachable areas". By that of course we mean areas that the animals and toddlers won't be able to steal ornaments or play tug-of-war with the string lights…
3. Avoid Controversial Topics
Nothing dampers the holiday spirit like a non-spirited argument, right?
We've all got some relatives that can get a little rowdy about a few subjects (or after a few glasses of bubbly, am I right?!). Especially after this year, there may be some taboo topics that are best not brought up at holiday gatherings.
Therefore, it might be best to a list of topics not to bring up around Uncle Justin or the in-laws… dun dun dunnn.
Do you have a decorative shelf that looks stable enough to hold a mini tree? Or some built-in shelves in your house above the cabinets or staircase? Those might be the best place to start.
4. Present Fake-Outs
We like to call #4 of our Tips to Avoid a Holiday Disaster, the present fake-out, and it is aptly named! We suggest wrapping fake presents and keeping the real ones hidden until Christmas morning.
We're sure you've noticed how excited and rascally the children of the family can get this time of year! Let's face it, kids love to take a peek inside the pretty holiday gift bags or shake the beautifully wrapped boxes to guess what's inside.
Some may even have figured out how to unwrap, and rewrap presents without detection…
If you deal with these too-smart-for-their-own-good kids, then you might want to consider locking these gifts away in a safe place until Christmas day!
5. Disposable Dinnerware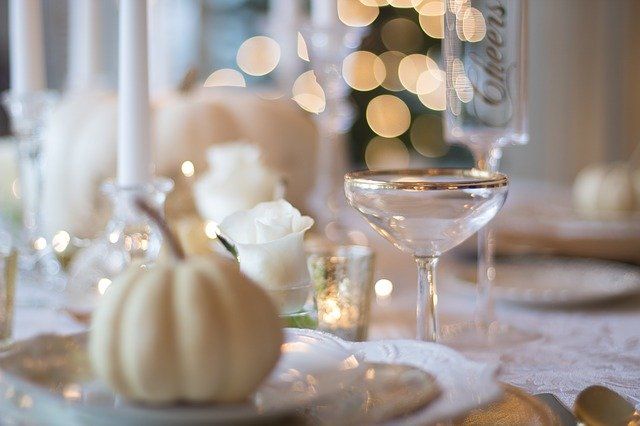 I know what you're thinking, "But china is meant for special occasions like these." China is great for the adults in the family right, but make sure to have some disposable dinnerware and utensils around as well.
Not only can plasticware save a tragic accident of your fine china, but it'll also save you time on doing a ton of dishes. It'll still be a great dinner– they make some pretty nice looking plasticware nowadays!
6. Zerorez® Tucson Holiday Cleaning Checklist
And last but not least, avoid the shots taken by your family critics by creating a cleaning checklist that will remind you of your holiday cleaning chores before the big day!
Luckily, this is kind of our expertise, so take a gander at the Zerorez® Tucson Cleaning Checklist HERE. For a little sneak peek, here are some of the most important areas to get done before the family arrives:
wiping down walls, baseboards, door frames, and knobs
vacuuming out the windowsills
washing windows and window screens
washing or vacuuming curtains/blinds
cleaning the showers and toilets
deep cleaning the refrigerator, stove, cabinets
yard work– spraying down the porch, leaf-blowing the yard, or pulling the weeds
washing area rugs (check this one off the list by calling Zerorez®)
Now that you've thought through how you will finagle your way around all these possible holiday disasters, let's talk more about tip number 6.
Prep cleaning for the holidays can be stressful. When you sit down to make that list of all the things you want to clean before your family comes over, it can be overwhelming.
Let us make your life less stressful and more enjoyable this holiday season by allowing us to clean the areas we CAN help with. Like deep cleaning your carpets, washing those ornate rugs, removing the pet hair from your guest rooms, restoring your bathroom tile and grout back to its original color, or ridding that stain from the center of the couch!
Give us a call or schedule an appointment today and our experienced technicians will be more than happy to overcome #6 of our Tips to Avoid a Holiday Disaster!
Happy Holidays everyone!
Can't get enough of Zerorez® holiday tips?